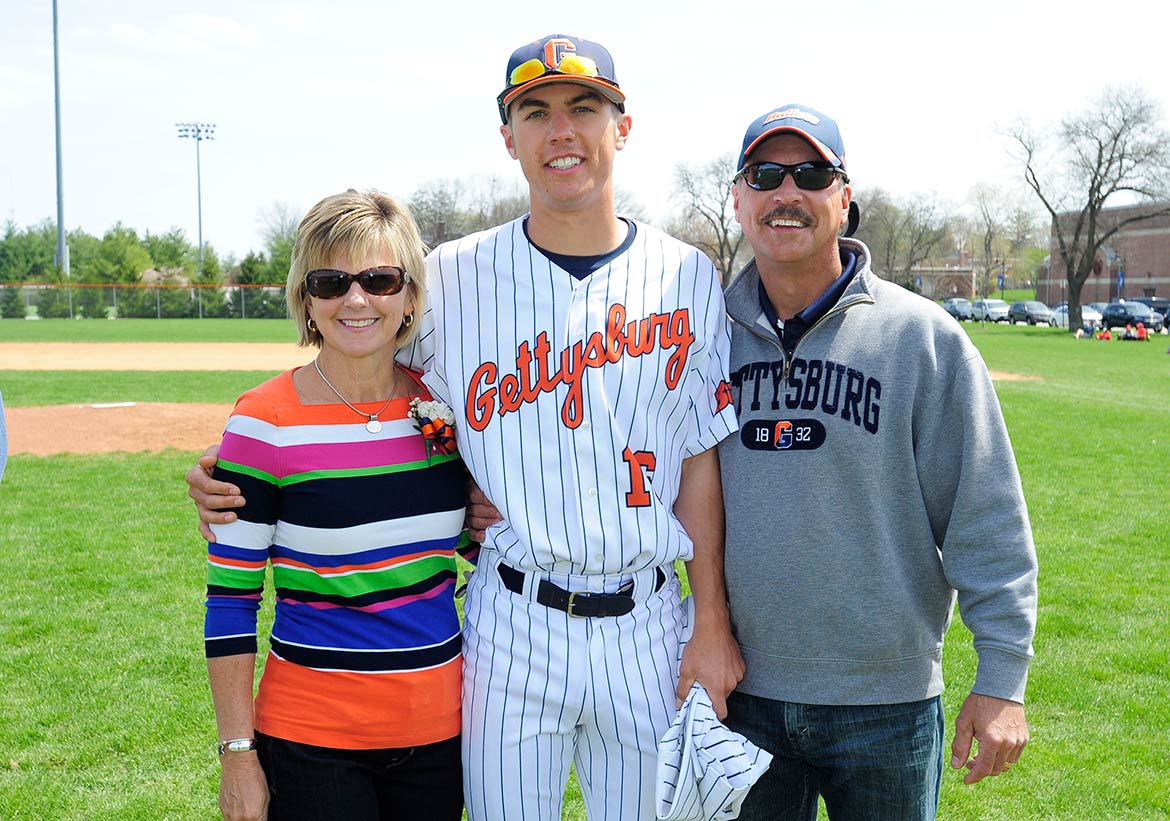 Alex Posch '14: My first taste of medicine
When Alex Posch '14 transferred to Gettysburg from a biomedical engineering program as a sophomore, he knew he wanted to pursue a different path in the realm of science, but wasn't sure what area, exactly. As a high schooler from Massachusetts, Posch remembered attending a summer camp where a Gettysburg assistant baseball coach approached him about playing for the team.
This experience would be one of several moments that later led him to Gettysburg as a transfer student and, although he didn't know it at the time, to a record-setting College baseball career, an interest in research for the military, and a career in medicine. Today, Posch is a medical student at Nova Southeastern University – College of Osteopathic Medicine.
The tour
Before transferring to Gettysburg, Posch visited campus for a tour, which is when he met Health Science Prof. Josef Brandauer.
"It was summertime and no one was there for classes. He could have just stayed in his office," recalled Posch. "That really impressed me. He spent 15 minutes talking about the [health sciences] program and I kept in touch with him all summer."
Posch realized he was excited about the prospect of taking classes on the human body and physiology. He eventually decided to major in health sciences and minor in biology and chemistry. Brandauer was his first connection to the department, and his go-to person the summer he started the process of transferring to Gettysburg.
"What I liked most about the health sciences is I could see its application later in life," said Posch. "And I'm really doing that in medical school. Your understanding and application of the material has real life consequences and is put to use in what I think is a very important aspect of life—taking care of other people."
Playing baseball
On his tour, Posch also met baseball coach John Campo, who told Posch that everyone received an equal opportunity to showcase their skills in tryouts. When he met Coach Campo again, it was as a student at Gettysburg.
"He remembered me from my visit, which I respected," said Posch. "He said 'I'll give you a fair shot during fall tryouts' and he stuck to his word. Coach was always straight forward with us. He was honest. He told me if you play well in the fall season, you're going to make the team."
"I have been fortunate to coach many wonderful young men over the years who possess the whole package, and Al ranks right up there with the 'best of the best'. Not only was he a great player earning All Conference and All Region honors, but he was also an outstanding leader as a two-year team captain, an exceptional student, and a model campus citizen.

"He was a major factor in the success of our record setting 2013 and 2014 teams, and epitomized the term 'Gettysburg Great' during his time here as a student-athlete."


-Baseball Coach John Campo
Posch—"Al," as his teammates called him—would play as a starting right fielder for three years through senior year, gathering an impressive number of accolades, including:
Holding the school and Centennial Conference record for longest hitting streak at 37 games, which spanned the 2013 and 2014 seasons.
Two-time All-Centennial Conference selection (named first team when Posch was a senior in 2014).
Two-time All-Region selection by both the American Baseball Coaches Association (ABCA) and D3baseball.com. Named ABCA First Team All-Region in 2013.
In 2013, breaking school records for hits (72) and doubles (24) in a season.
Despite playing just three seasons at Gettysburg, finishing second in school history in career hits (195), runs (115), and doubles (41) and with a .375 career batting average.
Helping the team record its two-highest win totals in school history, finishing 30-13 in 2013 and 33-8 in 2014.
Winning a CoSIDA Academic All-District award.
In 2014, the year Posch graduated, the team posted the longest winning streak (23 games) and highest national ranking (No. 21, by the ABCA) in program history. They ended up finishing in first place in the Centennial Conference (CC) standings, hosting the CC playoffs, and reaching the CC title game – all for the first time in program history.
"[Hosting the tournament] was a blast," said Posch. "It was nice to see our hard work and dedication come to fruition. We set that goal and talked about it everywhere—from the locker room to the dining hall, and everyone bought into it. Everyone did something to contribute, and to see that come to fruition was nice. It finally happened."
First year, medical school
In his third week of medical school, Posch said he misses playing baseball, which he relates to the study of science.
"You practice the fundamentals, but being a successful athlete is about getting the job done on the field," reflected Posch. "What allows people to do that is the ability to make adjustments when you need to. In science, you learn the foundation of certain topics, but then you take that and relate it to patients with different symptoms. You need to be able to adapt as things present themselves."
After medical school, Posch said he is considering service as a doctor or surgeon in the military. At Gettysburg, Brandauer had suggested Posch look up the U.S. Army Research Institute for Environmental Medicine (USARIEM) because it matched his interest in medicine, research, and perhaps military service—it was also close to his Massachusetts home. Posch took Brandauer's advice, and became a research technician there.
"My experience working for the Army inspired me," said Posch. "I had thought about service before, but even more so [as a result of that experience]."
Posch completed numerous research projects at USARIEM, most notably research on dehydration that was recently published in the Journal of Neurophysiology. Posch is listed as the first author.
In addition to his connection to the U.S. Army, Posch also credits Brandauer with sparking his interest in medicine.
"My first taste of medicine was when [Brandauer] recommended I become EMT- certified over winter break, and that was my first experience applying what we learned in class to medicine," he said.
"I have Dr. Brandauer to thank for a lot of the things I've done," Posch continued. "He and I still talk pretty regularly. It was tough love, though—he wasn't always the easiest. My medical essays came back with a lot of red ink, but he did that because he cares about his students and getting them to where they need to be. I wasn't going to apply to medical school—he said you're going to kick yourself years down the line if you don't try."
"Alex once told me that his parents raised him with the credo of 'everything you do is worth doing well.' I distinctly remember how Alex modeled his maturity and professionalism to students around him. During his time here, he was definitely on my 'student mentor' list, which I refer to when I need an upper-class student's perspective in helping me mentor a struggling student.

"Just this spring, Alex was instrumental in helping one of our current students receive a summer internship at USARIEM. As an institution, we are defined by our students and alumni, and I am proud and grateful that he is part of the Gettysburg family."


-Health Sciences Prof. Josef Brandauer
So, in a phone call with Brandauer recently, Posch told his former professor that he has zero regrets. Well, except one.
"I enjoyed my experience at Gettysburg and thus far it's prepared me well," he said, adding with a laugh—"If I could change one thing, it would be winning the conference championship my senior year."
Founded in 1832, Gettysburg College is a highly selective four-year residential college of liberal arts and sciences with a strong academic tradition. Alumni include Rhodes Scholars, a Nobel laureate, and other distinguished scholars. The college enrolls 2,600 undergraduate students and is located on a 200-acre campus adjacent to the Gettysburg National Military Park in Pennsylvania.
Contact: Carina Sitkus, senior assistant director of communications, 717.337.6803
Posted: Thu, 31 Aug 2017

Next on your reading list
Gettysburg College rankings underscore academic excellence, career, and alumni connections
---
18 works published by faculty in 2018
---
Top 2018 highlights from Gettysburg College
---
Share this story: