Pohanka internships offer alumni connections and career success at national parks
Now through July 31, 2018, gifts to the Brian C. Pohanka Internship Program will be matched dollar for dollar from a pool of $10,000 in available match funds. Support the Pohanka program.
When Rebekah Oakes '13 was a student, one internship changed her entire professional trajectory. The experience was offered through a new program by the Civil War Institute, and after seeing it advertised in the student digest, Oakes decided to give it a try.
Seven years later, she returned to campus to interview students for that same opportunity through the Brian C. Pohanka Internship program.
"That internship changed my career and my professional life more than any other experience I've had," Oakes said of her internship at Fredericksburg and Spotsylvania National Military Park. "I knew I wanted to work with history and people, but that internship made me realize there were so many other options to do that than I originally realized."
Connecting current students to similar experiences that allow them to explore diverse and unimagined career paths is why she—and many other alumni—continues to stay involved with the College.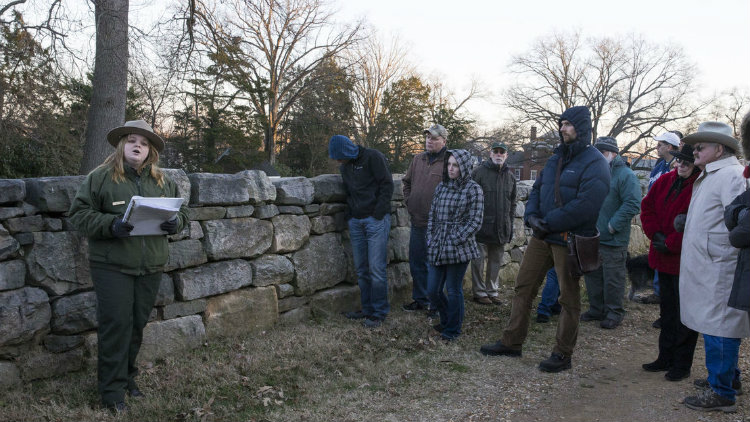 Rebekah Oakes '13 works at Fredericksburg and Spotsylvania National Military Park.
After receiving a masters degree in public history and 19th century U.S. history at West Virginia University, Oakes was hired by the park she originally interned at through the Pohanka program. She returned to campus this fall to interview current students and offered internships to Kenneth McCracken '20 and Zach Wesley '20.
"There are so many lessons I learned when I first started working here as an intern, and the most important one was how helpful it was to have staff members and seasoned professionals who really took an interest in interns and other people just starting out in their careers," Oakes said. "It's something I try to emulate."
Oakes's experience is indicative of the over 100 students who have gone through the program since it was first launched. Students gain hands-on experience where they can apply what they learn in the classroom to a professional setting that spans career interests like public history, archival research, interpretation, and more.
For Andrew Astley '16, that experience was essential to directing his career plan after graduation.
"I always thought I wanted to do archival work, but I took on an internship that focused on public interpretation to see where it might lead me," Astley explained. "My goals completely changed when I realized I never felt like I was working because I enjoyed what I was doing so much. Once I realized that, I immediately began looking to work my way into the national park system."
Like Oakes, Astley's mentors in the program made all the difference. They gave him resume and cover letter advice, helped him navigate job descriptions and applications, and connected him with colleagues at other parks.
Now, Astley works at the Martin Van Buren National Historic Site.
"If you had told me four years ago that I would want to make to making a living by talking to crowds, I wouldn't have believed you for a second, but here I am," said Astley. "The Pohanka internship program gave me a window into a career that I fell in love with, but it also gave me the knowledge I needed to pursue it."
Anywhere from 20 to 25 students are placed at over a dozen national parks and historic sites from Georgia to Massachusetts per year. Many of these sites were integral to Pohanka's own professional success, having worked at historic sites and having a passion for 19th and 20th-century military history and Civil War reenacting. Today, alumni of the program find career success as museum curators, historic preservation planners, park rangers, K-12 social studies teachers, librarians, educational consultants, and development officers in historical organizations.
Learn more about Pohanka's legacy in the video below, or on YouTube.
For a select few, though, they have the pleasure of returning to campus to offer students the same internship opportunities that were so valuable to their own professional development.
"It was a wonderful, full-circle experience to be able to come back to campus and see how much the program has thrived since I participated in it seven years ago," Oakes said. "To see how talented the students are, and how impressive the quality of the interviews were—it was truly incredible to be a part of it, and to know that in some small way I could impact these students' professional development in the same way the program has impacted mine."
Learn more about student internship opportunities and alumni career success.
Founded in 1832, Gettysburg College is a highly selective four-year residential college of liberal arts and sciences with a strong academic tradition. Alumni include Rhodes Scholars, a Nobel laureate, and other distinguished scholars. The college enrolls 2,600 undergraduate students and is located on a 200-acre campus adjacent to the Gettysburg National Military Park in Pennsylvania.
Contact: Kasey Varner '14, senior assistant director of communications, 717.337.6806
Posted: Mon, 16 Jul 2018

Next on your reading list
Gettysburg College rankings underscore academic excellence, career, and alumni connections
---
18 works published by faculty in 2018
---
Top 2018 highlights from Gettysburg College
---
Share this story: