Want to have an impact? These members of the Class of 2018 show us how.
Four years ago, members of the Class of 2018 were introduced to the countless opportunities they would have to explore at Gettysburg College. Their five-day Orientation challenged them to get involved and make an impact in ways that mattered to them.
"What cause will you nobly advance?" Civil War Era Studies Prof. Ian Isherwood '00 asked in 2014 at their First-Year Walk. "Please consider this question for its difficulty, for the challenge it poses to your life choices, and for its intimidating unselfishness. For like Lincoln, we also have unfinished work—we also have great tasks remaining before us—and to confront these tasks we need the wisdom and leadership of a noble generation."
Many of our seniors took that message to heart. They dove into hands-on experiences to hone their skills and work on causes that matter to them: 74% completed an internship; 51% completed research with a faculty member; 88% participated in community service; and 61% held a leadership position on campus.
Below are highlights from several members of our graduating class, sharing how they made an impact during their four years here and how they have grown from the experience.
---
Seniors, what has been your greatest contribution at Gettysburg College?
Delia Craig
"My work through the Entrepreneurship and Social Innovation Initiative. Doing great work means using your talents and resources to positively impact those around you. Many of my achievements and accomplishments were the result of someone in this network creating opportunities for me, and I can continue this by giving back to students through mentorship and professional opportunities."
Logan Sangree-Hills
"My involvement in the Garthwait Leadership Center. I am able to interact with hundreds of students and help them unearth their leadership potential. Whether it is helping them articulate their leadership stories from Gettysburg or helping them solve a problem in one of our Group Development Meetings, I am able to have an impact on them that hopefully carries to other spaces on campus."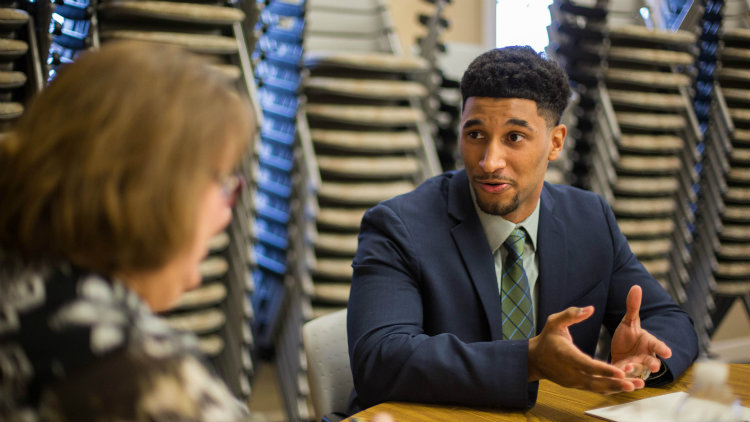 Kaitlyn Talt
"Being a part of Alpha Phi Omega and GECO has helped me to get involved in service in the community as well as making the campus more sustainable. I am most proud of organizing the Midnight Madness events that are co-sponsored with GECO. During these events, we assist students in separating their recyclables, food waste, and trash. We donate the food waste to local farms in the community. I think the significance of this event is making people aware of what and how much they are throwing out before they do it. Both of these organizations have taught me about the challenges and rewards that come with planning events that help others."
Jamie Welch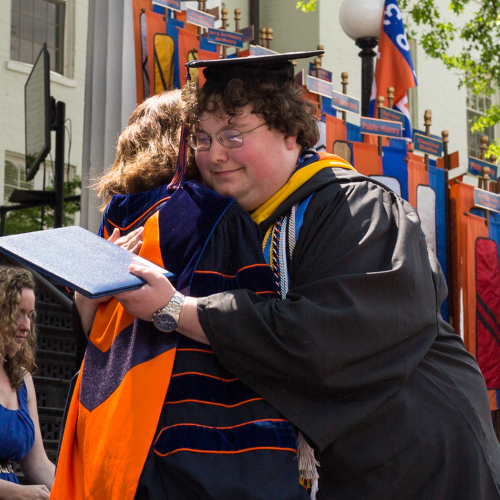 "The vast majority of the transformative experiences I've had at Gettysburg College wouldn't have happened if I hadn't owned my time here and taken chances. My work at The Gettysburgian has been some of the most rewarding. Since I took up the mantle of Editor-in-Chief two years ago, the paper has seen astronomical growth. More than that, The Gettysburgian has become a force for change. People read what we write, and they take action. To me, the fact that people now turn to and trust The Gettysburgian to get the facts in any situation is the accomplishment I'm most proud of after four years here."
Chentese Stewart-Garner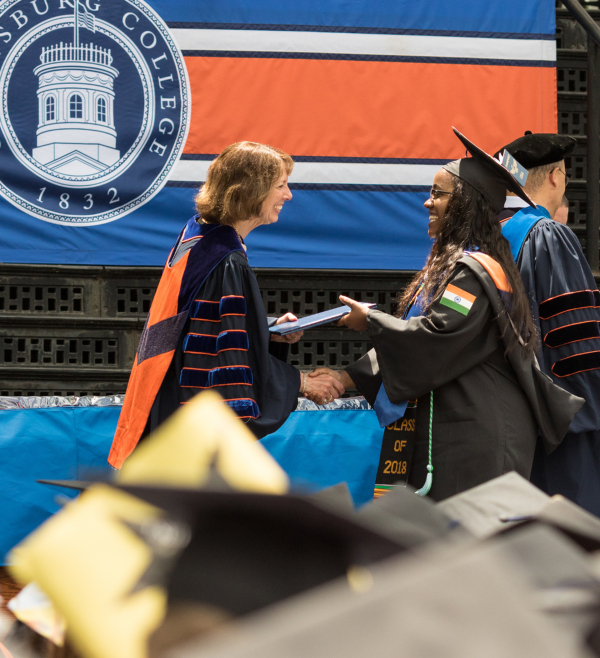 "As president of the Black Student Union, we felt a need for current students to connect with alumni and for alumni to reengage with the College. It is important for current students to see the sustained engagement of alumni of color and to make it easy for alumni to reach out, encourage, and mentor students."
Tylor Behm
"My greatest contribution to the Student Outreach Program was my time and energy, but I feel like that I have definitely made a difference for future Gettysburg students. I contacted alumni, friends, and family of the college, built relationships with them, and raised over $100,000 during my four years working with them. This money goes to support scholarships, financial aid, study abroad opportunities, sports, Greek life, and more. To me, doing great work is doing things that are not only worthwhile and meaningful, but it is also doing things that I can be proud of doing. To me, actively making decisions that are positively influential and life-changing—that's Gettysburg Great."
Caroline Lewis
"When I initially began to direct The Vagina Monologues during my sophomore, I had no clue what I was doing and ticket sales had been declining over recent years. By my senior year, The Vagina Monologues at Gettysburg College had its biggest cast, sold the most tickets, and made the largest donation to Survivors Inc. to date. We've also started important conversations on campus. Beyond teaching me the organization and delegation skills it takes to plan and execute an event, this work has taught me a lot about my privilege. I've learned that it's not my place to speak for others, but to promote others' voices, particularly students of marginalized communities. Honestly, it's taught me how little I know and how much I have to learn from my peers."
Ty Abdul-Karim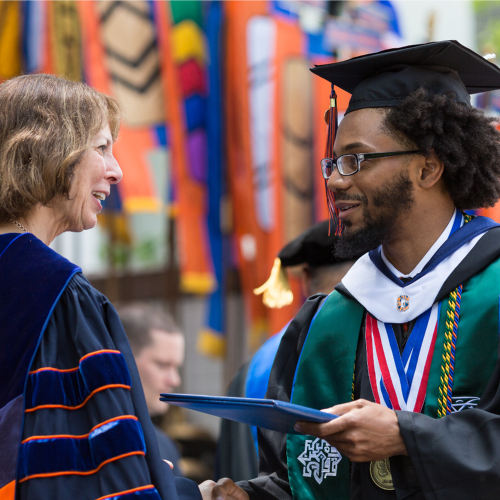 "I created the Fellaship as a way to bring people together because there are people in a bunch of different spheres. Bringing everyone together in a space where they can sit down, look each other in the eye, and have conversations about things that really matter, offer advice, and support—that's really big for African Americans on this campus. That's what I live for—creating memories, creating bonds that will last beyond our time at Gettysburg."
Watch him talk more about creating social change.
Sydney Braat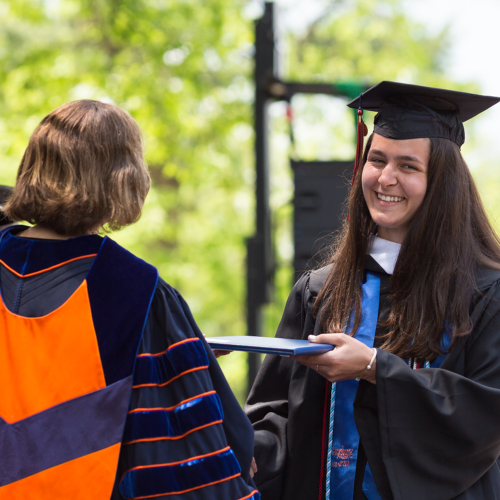 "My biggest contribution was being a Leadership Mentor at the Garthwait Leadership Center. I was able to help run the Gettysburg College Leadership Certificate and the marketing efforts for the program, attracting over 100 students. There hasn't been one specific moment where my work has 'done its job.' I believe it has been a progress over the past four years working with the GLC. Every year our numbers grow and every year I am proud to say I have contributed to leadership development on this campus."
Mary Beth Bielicki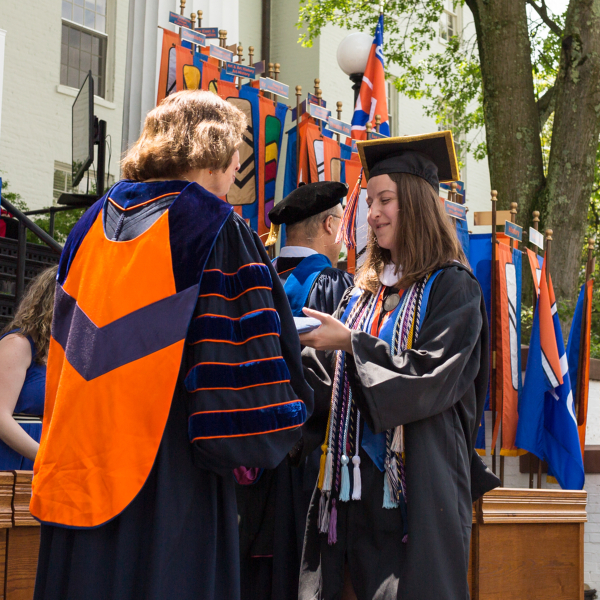 "When I was younger I always admired people who were vocal leaders not afraid to express their opinions; however, I was too shy and nervous of critique to share my own ideas. Getting involved in Residence Life, the Center for Public Service, and Alpha Phi Omega helped me gain the confidence to share my ideas and not only be okay with receiving constructive criticism but encourage others to give me that feedback as well. These opportunities also introduced me to people who have very different backgrounds and personal opinions than my own and gave me the chance to have conversations with these individuals about their beliefs. Through these conversations, I've gained insight into different perspectives on political and social issues, and I feel as though I am more tolerant and understanding of different opinions as a result."
Founded in 1832, Gettysburg College is a highly selective four-year residential college of liberal arts and sciences with a strong academic tradition. Alumni include Rhodes Scholars, a Nobel laureate, and other distinguished scholars. The college enrolls 2,600 undergraduate students and is located on a 200-acre campus adjacent to the Gettysburg National Military Park in Pennsylvania.
Photos by Shawna Sherrell and Miranda Harple
Contact: Kasey Varner '14, senior assistant director of communications, 717.337.6806
Posted: Mon, 21 May 2018

Next on your reading list
Gettysburg College rankings underscore academic excellence, career, and alumni connections
---
18 works published by faculty in 2018
---
Top 2018 highlights from Gettysburg College
---
Share this story: