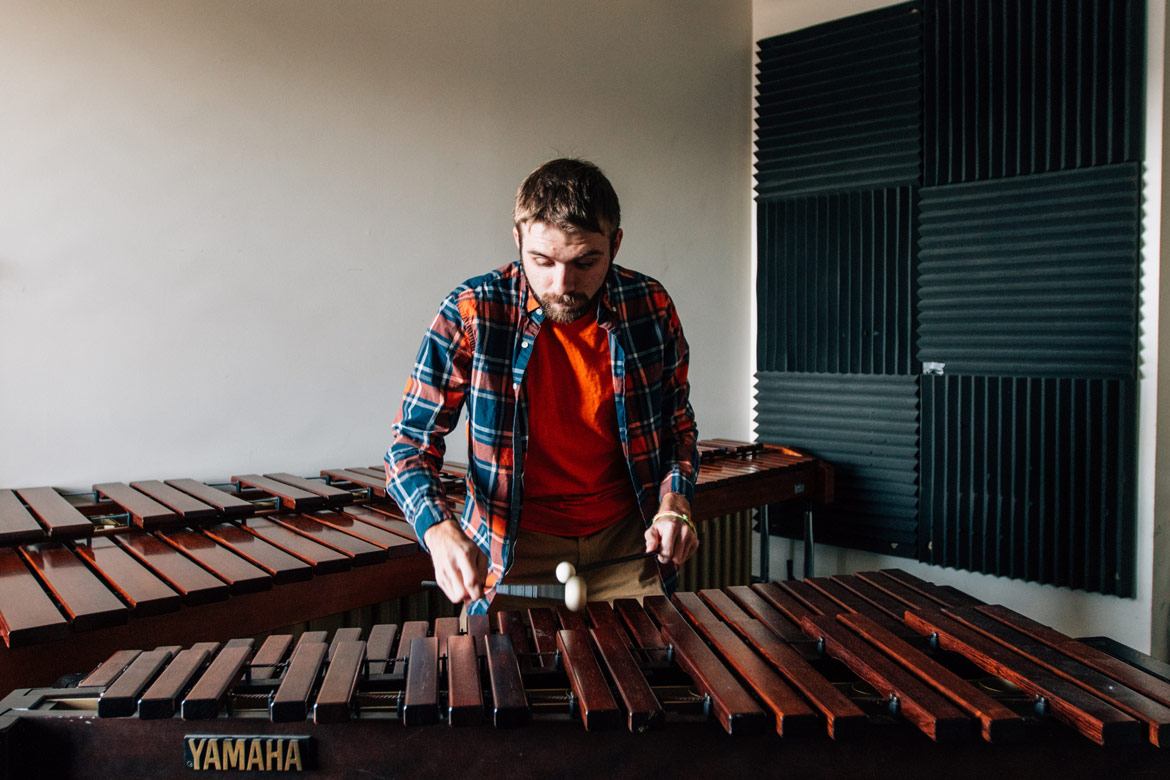 Skyler Ehly '18 conquers college search, personalizes his Gettysburg experience
Seated at his parents' kitchen table, Skyler Ehly '18 sorted through hundreds of glossy promotional brochures from colleges and universities across the country—each pile stacked high, resembling miniature mountain peaks.
Overwhelmed, Ehly imagined himself as a lowly climber at the base of these mountains, gazing up at the considerable journey ahead. With so many great schools to choose from, how could he ever decide on the right college for him?
Like other high schoolers in the throes of the admissions process, Ehly determined there was really only one path forward, and that was to get to work. So, he gathered his thoughts and began to jot down a list—a three-point criteria for selecting his ideal college:
#1. He wanted to build upon his musical passions.
In high school, Ehly was heavily involved with music—performing in a wide range of bands and choirs, in addition to providing audio and video assistance for theatre productions.
"I didn't want to leave music behind, but I also didn't want to focus entirely on that either," said Ehly.
#2. He wanted a school with a distinguished computer science department.
Ehly had always excelled in math and problem-solving. He took pleasure in working with computers and wanted to pursue it further.
#3. He wanted the opportunity to study abroad and see the world.
"It was the diversity of my educational background that led me to look for a school that would allow me to do and try everything I wanted to at the same time," said Ehly.
Ehly weighed the pros and cons of several liberal arts colleges in the Northeast. After crossing-off a number of them early in the search process, however, he started to feel anxious that he may never find the perfect fit.
"That's when I decided to check out Gettysburg College."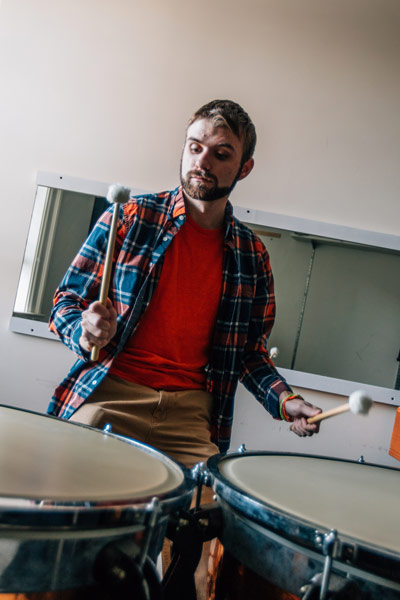 The Sunderman Conservatory of Music is what initially put Gettysburg on Ehly's radar. Sunderman offers a variety of ways to get involved—he could join the Wind Symphony or the Gamelan or the Marching Band, or all three if he pleased.
"The best part was that I would be able to be a part of the Conservatory, and still be involved in other academic fields," Ehly remarked.
The Computer Science Department was another huge draw. Many of the liberal arts colleges that Ehly explored did not even offer the program. "When I met with one of the Gettysburg professors, I appreciated when he told me that the program does a good job of teaching us all of the computer science basics. We can apply these skills to many different programming languages and problems," said Ehly.
At this point, Gettysburg had fulfilled more of his needs than any other school.
But, Ehly wasn't sold yet.
That's when he discovered the College's Center for Global Education. With 100 affiliated programs in 50 countries, Gettysburg would provide Ehly with the freedom to travel almost anywhere he desired. He was elated.
"I chose Gettysburg and have never looked back."
In his first semester on campus, Ehly joined both the Marching Band and Wind Symphony. During this time, he also found a faculty mentor in Sunderman Conservatory's Director of Bands Prof. Russell McCutcheon.
"Prof. McCutcheon truly inspired me to become more involved in music and eventually to declare it as a minor," said Ehly, who now serves as percussion section leader for the Marching Band, and continues to take private lessons with McCutcheon.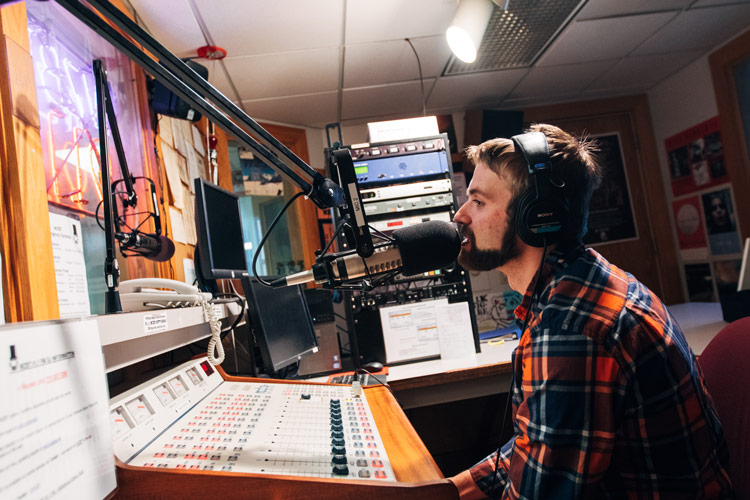 On top of majoring in computer science and double minoring in mathematics and music, Ehly has managed to find time to commit to several extracurricular activities as well. He assists in the IT Division as a student programmer; works on the tech crew for campus events; and serves on the WZBT Radio executive board.
Ehly's on-campus involvement was also enhanced through his experience abroad.
During his junior year, Ehly studied in Lancaster, England, where he was particularly fond of his internet engineering class. Instead of lectures, representatives from companies like the BBC, Spotify, and Deloitte were brought in to show students how to create a successful website, with a specific focus on website accessibility and quality web design.
"It was an incredible opportunity to learn in a new way and to make some valuable career connections," reflected Ehly.
Ehly is excited for life after Gettysburg and intends to return to the UK. Currently, he is applying for software development jobs in England, combining his computer science degree with his curiosity of the world. Once across the pond, Ehly also hopes to join a community band and continue with music as a side passion.
"Gettysburg gave me the opportunity to explore each of my interests simultaneously, as well as the opportunity to participate in various positions on-campus. It proved to be the right place for me."
Founded in 1832, Gettysburg College is a highly selective four-year residential college of liberal arts and sciences with a strong academic tradition. Alumni include Rhodes Scholars, a Nobel laureate, and other distinguished scholars. The college enrolls 2,600 undergraduate students and is located on a 200-acre campus adjacent to the Gettysburg National Military Park in Pennsylvania.
Photos by Khun Minn Ohn '19
Article by Virginia Barlow '18, marketing intern
Contact: Mike Baker, associate director of communications and coordinator of development communications, 717.337.6521
Posted: Fri, 13 Apr 2018

Next on your reading list
Gettysburg College rankings underscore academic excellence, career, and alumni connections
---
18 works published by faculty in 2018
---
Top 2018 highlights from Gettysburg College
---
Share this story: