Spiritual practice, cultural expression, and superheroes
At its heart, Gettysburg College is a dynamic learning environment. Its curriculum seeks to facilitate interdisciplinary connections and launch a lifelong passion for academic discovery in all students. Perhaps not surprisingly, many of our faculty feel the same way.
In fact, inspiring intellectual potential was what attracted English Prof. McKinley Melton to academia in the first place. The moment Melton was motivated to pursue this career path is a story he shares often.
He was studying African American literature at Duke University when he was nominated to attend a Mellon Mays Undergraduate Fellowship event. While he wasn't sure what he wanted to do after graduation, higher education wasn't exactly at the top of his list of potential career paths. Instead, he was debating between advertising, journalism, or perhaps law.
Something the speaker said resonated with Melton:
"Students of color are constantly coming into my office, asking where the faculty of color are," Melton recalled the speaker saying. "Those faculty members are sitting right here in this room—they are waiting to be made."
That remark lit a fire in Melton.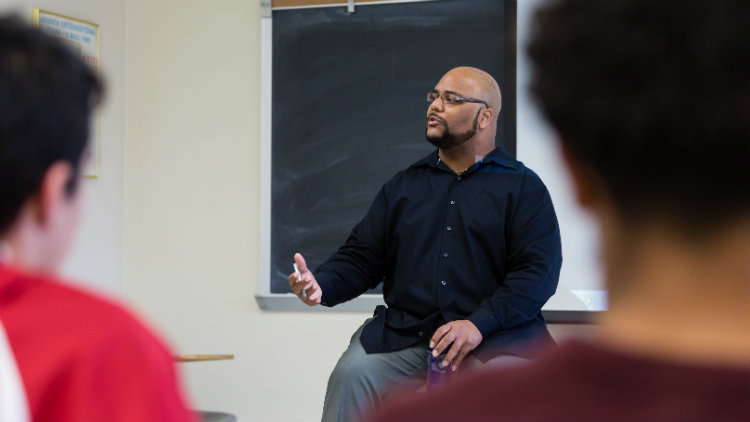 Since then, he has been able to research—and thereby share his love of learning with others—about the subjects that have had the greatest formative impact on how he views the world.
"My main research focuses on the role of black spiritual thought and practice within black cultural expression," Melton said. "The questions I pursue allow me to operate in a number of different interdisciplinary fields."
Literature is key amongst those fields. He is able to examine some of his favorite African American authors through this lens, authors like James Baldwin and Zora Neale Hurston. And he doesn't stick to traditional literature, either—instead, he expands his scope to incorporate slave songs and narratives, poetry, theater, film, television, and even hip hop.
One course in particular highlights the interdisciplinary nature and creative connections unique to his research: Black Superheroes in American Popular Culture: From Nat Turner to Netflix. Melton offered the First-Year Seminar for the first time this past semester, where he encouraged students to examine the presence and impact of historical and fictional figures from the fight to abolish slavery to the Civil Rights Movement and more contemporary social justice campaigns.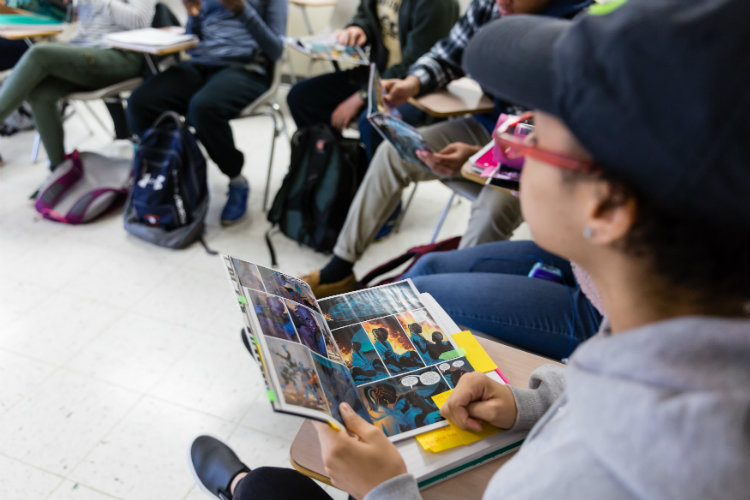 Not only does this course introduce students to the rigors of collegiate-level thinking and writing, but it also prepares them to grapple with real-world issues through critical thinking and self-reflection.
"Alongside the supernatural and fantastical contexts of comic books, we talk about historical fiction, we talk about realistic work, and we reflect upon things that have happened in the world around us. Many times, the conversations we have as a result of these reflections make students uncomfortable, but only because they are confronting realities they never had to understand before," Melton said.
"By the end of the course, and I hope of all of my courses, my students learn that no matter what, being uncomfortable and having difficult conversations is okay. It doesn't kill you. It better prepares you to continue to ask questions, think critically, and fully understand the implications of things you may see on the news or in a movie, happening in your neighborhood or on campus."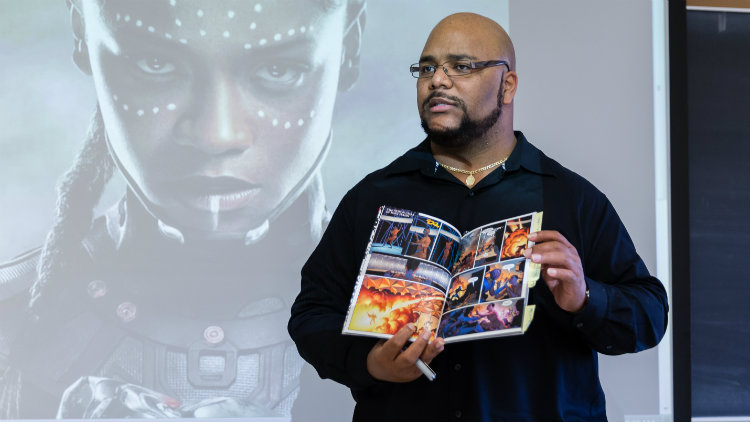 It's about building the skills required to engage with the free and open exchange of ideas. Part of the College's mission, it is a hallmark of a liberal arts education that is critical in the development of responsible citizens and transformative leaders.
For Melton, literature plays a critical role in making complex issues accessible.
"Literature is both a product of and has an impact on the world in which we live. If you can critically engage with something in a book, you can prepare to engage with it in the real world."
While there are no shortcuts for the hard work involved, Melton's passion for creating an engaged learning environment is what makes the work so much fun.
"I love that I get to spend my life reading and talking about good books. I get to help students think and grow in unexpected ways, who then challenge me to think and grow in unexpected ways, too," Melton said. "We are all works in progress, but I love that I'm in a role where I can continue to develop, to excel in an intellectual enterprise, while helping students do the same thing."
Founded in 1832, Gettysburg College is a highly selective four-year residential college of liberal arts and sciences with a strong academic tradition. Alumni include Rhodes Scholars, a Nobel laureate, and other distinguished scholars. The college enrolls 2,600 undergraduate students and is located on a 200-acre campus adjacent to the Gettysburg National Military Park in Pennsylvania.
Photos by Shawna Sherrell
Contact: Kasey Varner '14, assistant director of communications, 717.337.6806
Posted: Mon, 5 Feb 2018

Next on your reading list
Gettysburg College rankings underscore academic excellence, career, and alumni connections
---
18 works published by faculty in 2018
---
Top 2018 highlights from Gettysburg College
---
Share this story: