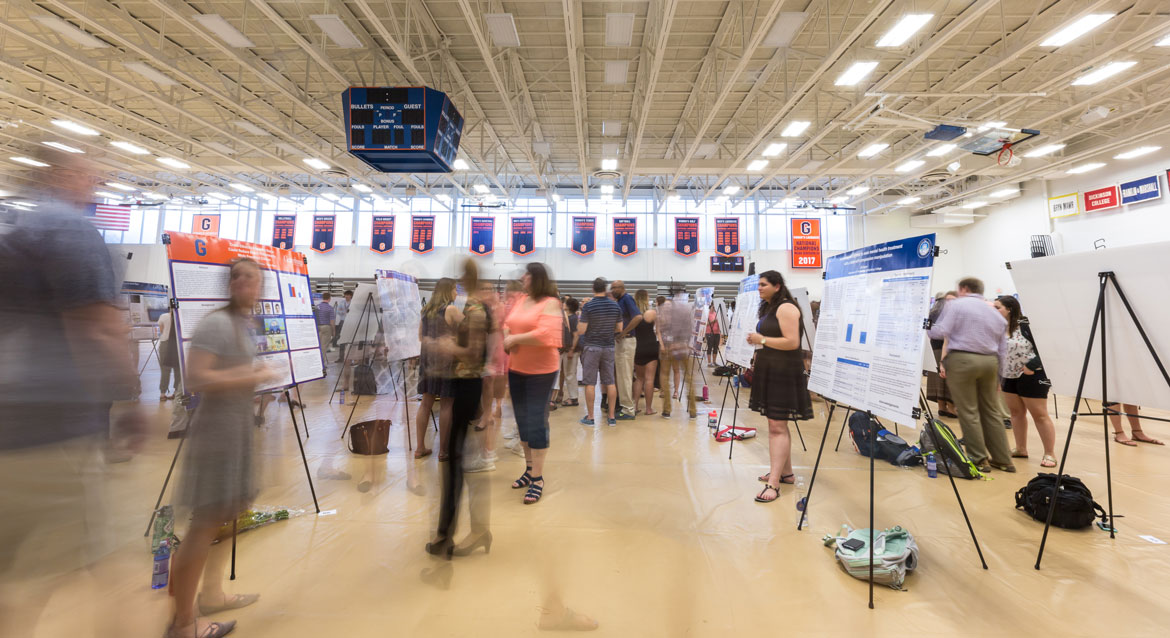 Celebration 2018: A forum for intellectual thought and curiosity
Students are enabled to reach their full academic potential at Gettysburg College. The campus community comes together to commend academic success annually at Celebration, a two-day symposium featuring undergraduate students' research projects, creative activity, and community engagement.
Every year, the event illuminates the passion and intellectual curiosity of both students and faculty mentors alike through the variety of meaningful projects presented. In an environment that encourages thought and discovery, Celebration highlights the power of interdisciplinary exploration to change the world.
View photos of Celebration 2018.
Read more about the diverse projects of five students.
Abigail Heydenburg '18
Inspired by a personal love of music combined with a debilitating shoulder injury, Heydenburg wanted to understand the mechanics of how musicians interact with their instruments. How can posture can affect a cello's execution of "a bow stroke from the frog of the bow to the tip," for example?
"More musicians should have a better idea of how they're using their bodies because we're hard workers, and very prone to hurting ourselves," said Heydenburg. "Knowing more about how the body works can help prevent injuries in the future. I hope my project will make it so another musician will not have to suffer what I went through my first year."
Anika Jensen '18
Jensen was confident that she wanted to research J.R.R. Tolkien's mythology and the Great War, but she was not sure how to approach the topic until a conversation with History Prof. Ian Isherwood. He asked Jensen if she had heard of the Scottish Women's Hospitals. "Learning about this group of women so essential to the allied war effort made me meditate on how we perceive women at war," Jensen said. "I wanted, then, to use my research not only to change our understanding of women characters in Tolkien's mythology alone, but also to change our understanding of the importance of femininity and womanhood in war."
Her research focused on the intersections of gender and the First World War in J.R.R. Tolkien's mythology, examining his attitudes toward femininity through the lens of his military service and the cultural changes impacting British gender roles at the time.
"Through several close readings and analyses of two of Tolkien's most contested female characters, Eowyn and Luthien, I discovered that women who choose to embrace their femininity as a source of strength have the greatest impact in the legendarium," she said.
Danielle Jones '18
Jones has been analyzing the five monuments to the First World War in Washington, D.C., to better understand commemoration practices in the United States after WWI.
"The First World War is the most widely commemorated war in terms of living memorial and monuments, and yet it's referred to as The Forgotten War. I wanted to see how such a dramatic memory shift could occur," said Jones.
"I have discovered so far that the D.C. memorialization process has mirrored the national process, in that in the interwar period commemoration was very important, but that after the Second World War, the memory of the Great War faded in favor of other wars."
Leah Gulyas '19
Working with her mentor Biology Prof. Jennifer Powell, Gulyas examined how C. elegans responds to acute cold stress. This project was inherited from an experiment started by Joe Robinson '15. At Gettysburg, it's not uncommon for several generations of Gettysburgians to work on a project and contribute different layers of findings to a study.
"Since every organism must survive a variety of stressors in order to survive, studies of the model organism C. elegans stress responses can shed light on how other organisms react to such situations at a cellular and molecular level," she said. "Currently, we are continuing to explore how and why C. elegans responds the way it does, looking at how the environmental change is sensed, the components of the ensuing pathway, and whether or not this confers any survival benefit to progeny."
Richard Gawel '18
"Gold nanoparticles are increasingly being used in a variety of consumer products and medical treatments," said Gawel.
Gawel has been completing aquatic toxicology research with the help of his faculty and research advisors—working to attach the antidepressant Prozac to gold nanoparticles.
"My primary focus has been to utilize different methods to count the number of Prozac molecules attached per nanoparticle," he said. "Proper dosing is one of the most important considerations when designing new drug therapies, so we are interested in accurately determining the number of Prozac molecules attached per nanoparticle."
Gawel is currently applying to medical schools and hopes to pursue a career in the medical field. "I believe that the tools and skills I learned through independent research at Gettysburg College will greatly benefit me as I progress through my career."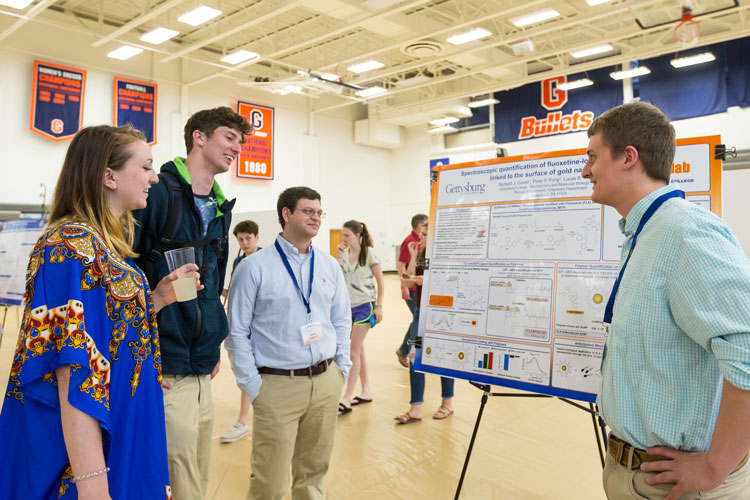 Founded in 1832, Gettysburg College is a highly selective four-year residential college of liberal arts and sciences with a strong academic tradition. Alumni include Rhodes Scholars, a Nobel laureate, and other distinguished scholars. The college enrolls 2,600 undergraduate students and is located on a 200-acre campus adjacent to the Gettysburg National Military Park in Pennsylvania.
Photos by Shawna Sherrell
Article by Katherine McPartlan'18, communications and marketing intern
Contact: Carina Sitkus, director of communications and content strategy, 717.337.6803
Posted: Wed, 9 May 2018

Next on your reading list
Gettysburg College rankings underscore academic excellence, career, and alumni connections
---
18 works published by faculty in 2018
---
Top 2018 highlights from Gettysburg College
---
Share this story: