Kate Anderson '09: Songwriter for Frozen special, Between the Lines musical
After decades of musical training, Kate Anderson '09 was finally amid Broadway's elite. Shaking hands, sharing laughs, championing the theatre—it was everything that she wished for…
And yet nothing that she wanted.
"I wanted to be the one who introduced herself as the songwriter, not as the fundraiser," confessed the Gettysburg College music and creative writing grad.
But at The Public Theater, Anderson was doing important work for the arts. She was raising essential operating dollars, planning donor cultivation events, and making her mark at a world-class organization. Truth be told, it was a dream job.
So she'd hush the lingering voice in her heart and surrender any irking illusions of grandeur:
Let It Go.
Chasing a dream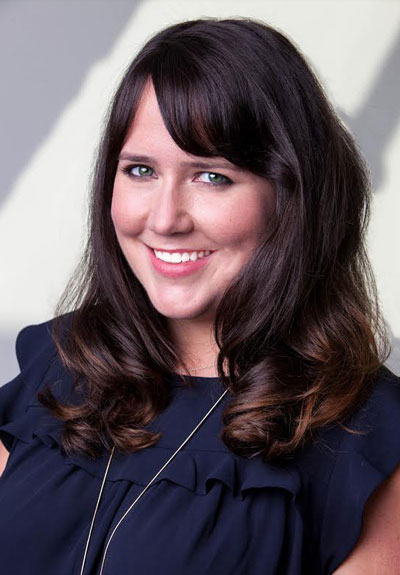 As time passed, however, Anderson could no longer combat her ambitions. She decided to apply to the BMI Lehman Engel Musical Theatre Workshop—a premiere training ground for emerging lyricists, composers, and librettists.
"I got in and it changed everything for me," said Anderson, who was paired with fellow songwriter Elyssa Samsel on her first assignment at BMI. "I quickly realized this is what I really wanted to do with my life."
So after three years of working in development, she quit her job and committed to songwriting full-time.
"It was a terrifying leap," Anderson reflected. "I had earned promotions. I was doing well. It would have been so easy to just keep doing it—to stay comfortable—but I wasn't feeling fulfilled."
In order to scrape together her Brooklyn rent, Anderson began serving as an au pair and picked up a few babysitting jobs on the side—all the while, using every experience as inspiration as she wrote tirelessly with her new music colleague, Samsel.
Just A Kid, Samsel/Anderson
"After tons of low points along the way, I remember putting on a reading at NYU Steinhardt. It was an incredible feeling of, 'We made a thing!'" Anderson joked.
"It felt so good and I knew we had to keep going. But at the same time, you return home and realize you have to start all over from scratch."
And then in 2014—after a series of rejected grant proposals and prosaic music festivals—Anderson's phone rang…
Answering the call
For a moment, she hesitated.
Did my rent check clear?
But it wasn't Anderson's landlord. On the other line was Jodi Picoult, acclaimed author of My Sister's Keeper, Nineteen Minutes, Change of Heart, and an illustrious list of New York Times bestselling novels.
"She told me that she saw our website and was obsessed with our songs. Then she asked, 'Can I send you my book to make it into a musical?' Of course, I said yes!" exclaimed Anderson, an alumna of the Sunderman Conservatory of Music.
"Jodi said that she was humbled to be working with us…She was humbled to be working with us!? I was so pumped—I'm a huge fan of her work. We met and had a three-hour long dinner. It was an amazing connection."
Now, following a three-year process of writing and rewriting with Samsel, and regular check-ins with Picoult and Tony Award-winning producer Daryl Roth (Kinky Boots, The Normal Heart, War Horse), the stage adaptation of Between the Lines made its world premiere this September in Kansas City.
"With the sets, the costumes, the band—it is so expensive to pull off a musical, and most don't even make it past the reading stage," shared Anderson. "This is the first time one of our shows has been brought to life on stage and I'm so grateful to be given this opportunity."
Why to never Let It Go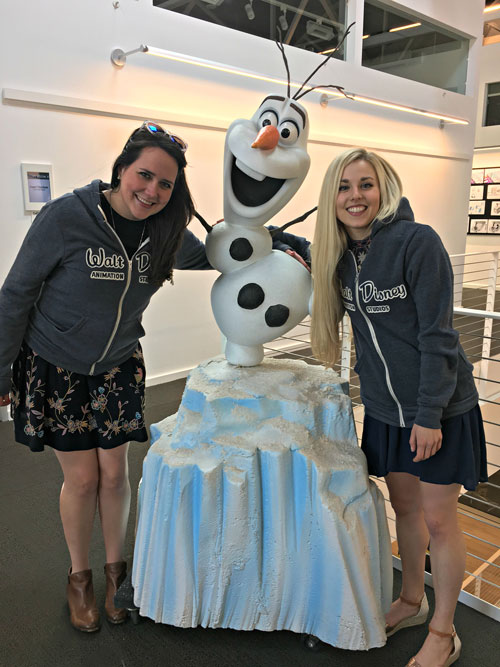 As Anderson prepared for the Kansas City premiere of Between the Lines, she knew that if all went well this would be her first stop on the musical's long journey to Broadway—back to where Anderson reflected on her songwriting dream and chose to never let it go.
Looking back, that same phrase she muttered as a fundraiser—Let It Go—serendipitously served as the musical inspiration for her latest career endeavor.
The Academy Award-winning song launched Disney's Frozen into a worldwide phenomenon and helped secure its place as the highest-grossing animated film of all-time.
After, they entrusted Anderson to build upon this remarkable lyrical legacy, the mega-franchise selected her as a new songwriter for the Disney short Olaf's Frozen Adventure.
The holiday-themed special was released in theaters along with Pixar's Coco last November, and reprised beloved Frozen characters Olaf (Josh Gad), Anna (Kristen Bell), and Elsa (Idina Menzel).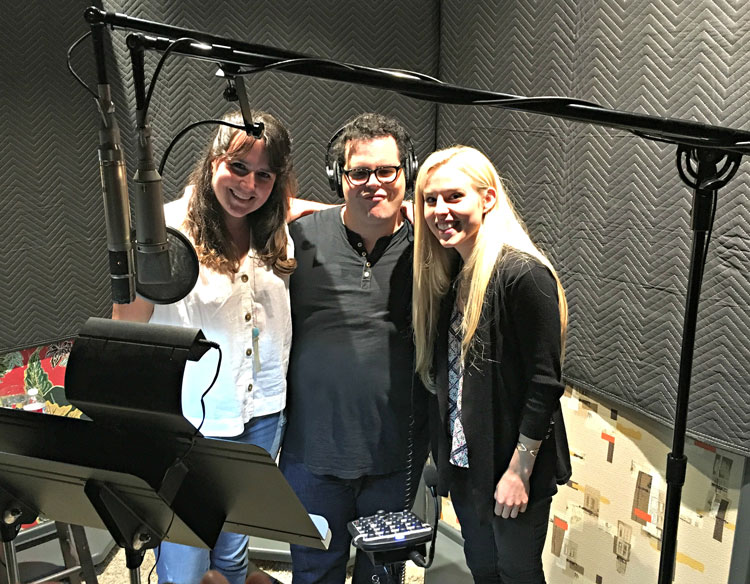 Anderson and Samsel with actor Josh Gad (Olaf).
"The whole project has been such a positive experience. Working in LA, writing songs, receiving feedback from the Disney-Pixar Braintrust—it's just been amazing."
Anderson and Samsel were awarded the assignment following a comprehensive hiring search led by Walt Disney Animation Studios.
"They really wanted songwriters they could trust to do this and, fortunately, our names were thrown in the ring," she said. "We met with the directors and heard the pitch for the holiday special—we laughed so hard and loved the idea. They asked us to write a song, but we got a little carried away and actually sent them five. We were just so excited!"
A month later—following a blind review of music submissions—the directors notified Anderson and Samsel that they had earned the gig. And over the next three years, the music duo created three full-length songs and two shorter musical arrangements for the 22-minute Frozen spinoff.
"I've fallen in love with animation. It's so challenging and fun. I'm very excited to keep working in this area, especially for Disney," said Anderson. "I have been offered a few other opportunities in animation, including two feature films—all in the early stages—but this project is blowing the doors wide open for us."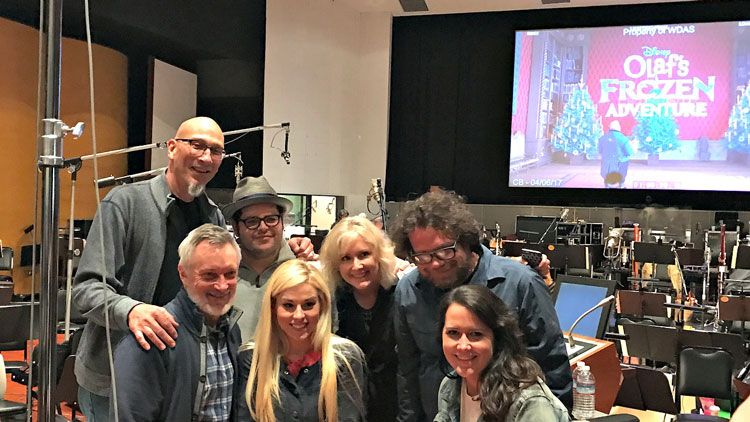 Olaf's Frozen Adventure scores are performed by an 80-piece orchestra.
Musical roots at Gettysburg
Long before Anderson's songs echoed throughout the fictional town of Arendelle, she honed her craft at Gettysburg College.
A legacy student of John Anderson '67, she was drawn to Gettysburg due to its beautiful campus; welcoming atmosphere; intimate class sizes; supportive faculty; and most notably, the freedom Sunderman Conservatory students have to pursue their passions.
"At Gettysburg, I had an infinite amount of opportunities to do what I wanted to creatively—music, theatre, dance, writing, you name it. I loved every minute of it," said Anderson, a Parker B. Wagnild Scholarship recipient.
"If I had just taken my classes and not filled every day with all that Gettysburg has to offer, I may not be doing what I am doing now. It ended up being the perfect fit."
Founded in 1832, Gettysburg College is a highly selective four-year residential college of liberal arts and sciences with a strong academic tradition. Alumni include Rhodes Scholars, a Nobel laureate, and other distinguished scholars. The college enrolls 2,600 undergraduate students and is located on a 200-acre campus adjacent to the Gettysburg National Military Park in Pennsylvania.
Contact: Mike Baker, associate director of communications and coordinator of development communications, 717.337.6521
Posted: Thu, 8 Jun 2017

Next on your reading list
Gettysburg College rankings underscore academic excellence, career, and alumni connections
---
18 works published by faculty in 2018
---
Top 2018 highlights from Gettysburg College
---
Share this story: