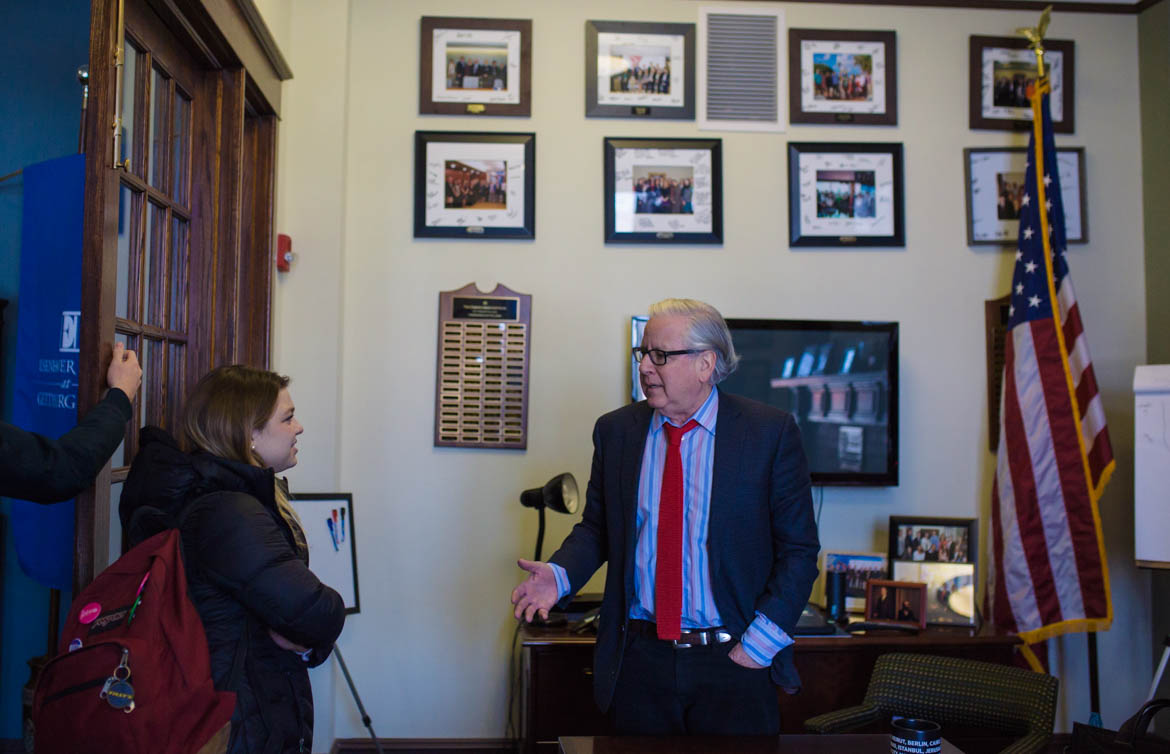 Get to know Commencement speaker Howard Fineman, NBC and MSNBC news analyst
In February, NBC and MSNBC news analyst and 2018 Commencement speaker Howard Fineman visited Gettysburg to meet with students and get to know the campus community in preparation for his Commencement address. While on campus, Fineman met with political science students, the Eisenhower Institute Undergraduate and Fielding Fellows, and Prof. Chas Phillips's Politics of Civil Disobedience class.
Fineman, ever the journalist, learned a great deal about Gettysburg from his discussions with students, but also managed to impart some wisdom during his campus visit.
Read what he had to say during a Q&A with graduating senior, Jeffrey Lauck '18, about his career and the value of a liberal arts education.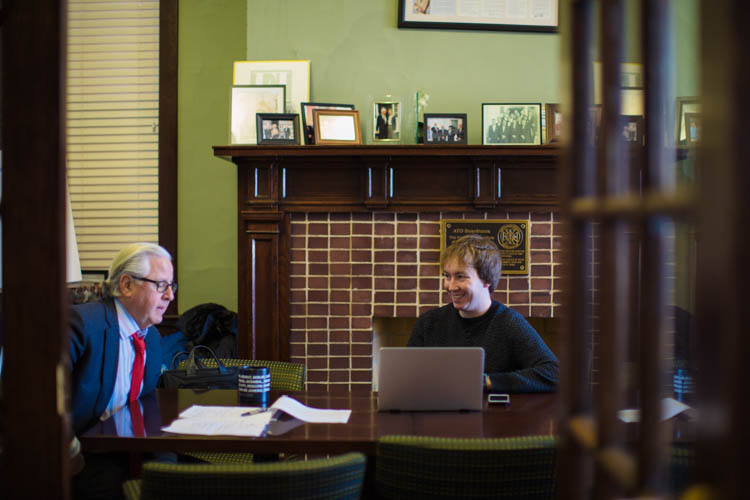 When did you first want to pursue a career in media?
I had always been interested in journalism since I was a little kid. My parents began their careers as teachers and were always interested in politics. They read the newspapers carefully every day and we always talked about public affairs, government, and history together at the dinner table. I was also growing up at the same time television was growing up. I think ultimately it was a combination of my parents' influence as well as the time in which I was growing up. Journalism ended up being what I always wanted to do.
What advice do you have for future journalists?
Journalism is a craft and a trade—not a profession. You will mostly learn the craft by doing, but there are some important lessons to learn in the classroom. During your undergraduate years, try to acquire habits of thought and substantive knowledge that you won't have the time or the opportunity to pick up later in life. To be a great journalist you need curiosity, a willingness to examine an issue in depth, and the mental focus and intellectual breadth required to put everything into perspective. Those are all things you will already learn or have learned during your undergraduate career at a liberal arts college.
What can a liberal arts education offer future journalists?
Many graduate school journalism programs spend a lot of time trying to build intellectually broad students, but in many cases, they are reinventing the wheel by trying to ensure their students get a liberal arts education that they should have gotten the first time around during their undergraduate years. That's why places like Gettysburg are important. This is the kind of place that is best-suited to develop the habits of thinking that you need to be a great journalist.
What is the most important piece of advice that you have for students about to enter "the real world?"
Read deeply. You're going to get really busy and need to do ten things at once all while skating along the surface of things to get through life. While you're still young, this is your opportunity to anchor yourself more deeply in subject matter and your own personal philosophy so that you don't get blown around like a leaf in the wind later in your life.
How will a liberal arts education help future leaders build the world of tomorrow?
Liberal arts colleges already disproportionately produce leaders, and the leaders of tomorrow have an increasingly important role to play in an increasingly divided world. Gettysburg's history shows what can happen when that division plays out unchecked. At small liberal arts colleges, face-to-face conversations both between students and professors and among students help build the skills necessary to communicate effectively. In this way, small liberal arts colleges have an important role in keeping the country together in the future.
Howard Fineman will speak and receive an honorary degree on Sunday, May 20, 2018, at Gettysburg College's 183rd Commencement ceremony.
Founded in 1832, Gettysburg College is a highly selective four-year residential college of liberal arts and sciences with a strong academic tradition. Alumni include Rhodes Scholars, a Nobel laureate, and other distinguished scholars. The college enrolls 2,600 undergraduate students and is located on a 200-acre campus adjacent to the Gettysburg National Military Park in Pennsylvania.
Photos by Miranda Harple
Article by Jeffrey Lauck '18, communications and marketing intern
Contact: Carina Sitkus, director of communications and content strategy, 717.337.6803
Posted: Wed, 2 May 2018

Next on your reading list
---
Share this story: