Rewriting the story: Kelsey Cochran '18
There are a variety of resources available at Gettysburg College for students to discover and develop their passion. Kelsey Cochran '18 was determined to strengthen her writing, photography and journalism craft upon her arrival at college.
"Sometimes there are emotions that you can see in a photo that you can't capture in words," she said.
Cochran has a gift for capturing these moments.
She declared a globalization studies major, and because of her natural interest in the fields, fulfilled the requirements for the cinema and media studies and Middle East and Islamic studies minors. Each student who declares a globalization major creates his or her own thematic track within a specific region and studies globally at least once. Cochran is studying how Western media portrays Arab people and countries within North Africa and the Middle East. "I'm going into the historical background of western relationships with eastern countries, taking a lot of mass media classes, and sociology of mass media."
After meeting with the Center for Global Education, Cochran began studying in Aix-en-Provence, France, during the fall of her sophomore year. She took classes that fueled her passion for her major, specifically her "Muslim Presence in Europe" class.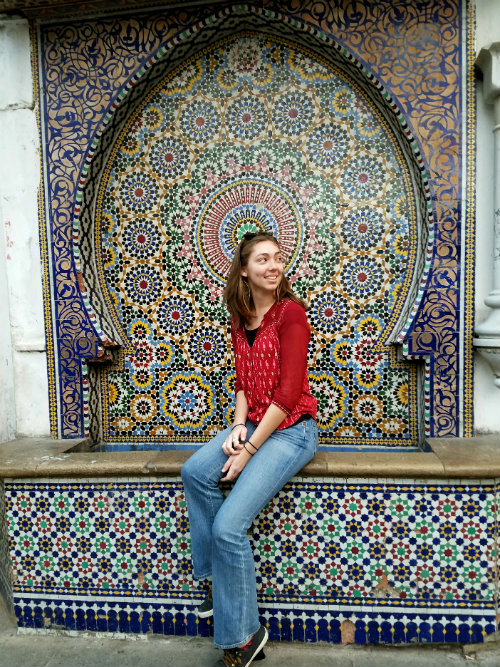 "It was a lot of work, but it was work that I was excited to do," Cochran reflected. "I wanted to learn everything that I could."
Through the course Cochran had the chance to visit a mosque and experience how Muslims worship in France. She and her classmates were able to examine how Muslim and Arab people have been mistreated throughout history, and began to see things through a different perspective.
"We pushed ourselves to think outside of ourselves," she said.
After enjoying a semester back at Gettysburg, Cochran headed for another global study experience—this time to Morocco. With the knowledge from the "Muslim presence in Europe" course, she felt prepared to study and live there for the next few months. Cochran's preparedness was not only from this course—it was from courses she took at Gettysburg, orientation activities, and her Arabic language classes. Even so, upon arrival she experienced culture shock.
"Morocco was way more of a culture shock than France," she said.
Cochran was struck by the way people seemed to perceive her, and by the language barrier.
"I was more of an outsider in Morocco. In France, I would pass-off as a French woman. People would speak French to me," she said. "In Morocco, you can't hide that you're not Moroccan." Cochran acclimated to the culture through an appreciation for the people and her surroundings.
"It was a culture shock that I really appreciate now," she reflected.
One aspect of her program in Morocco was an independent study in journalism. She was required to pick a story that she wanted to write and then pitch it. Cochran chose to write and investigate the urban housing conflict currently affecting thousands of families. The number of slums, or shanty-towns, has increased drastically over the years.
Every week, Cochran would take a train from Rabat to Casablanca and interview one family and some of their friends who lived in these slums.
"It was really sad, but I felt okay with what I was doing because every day the family would tell me, 'I hope you get this story out so that people can see what we're living in. Maybe we can make our lives better for everyone,'" she said. "It made me feel like I was really doing some good in my time there."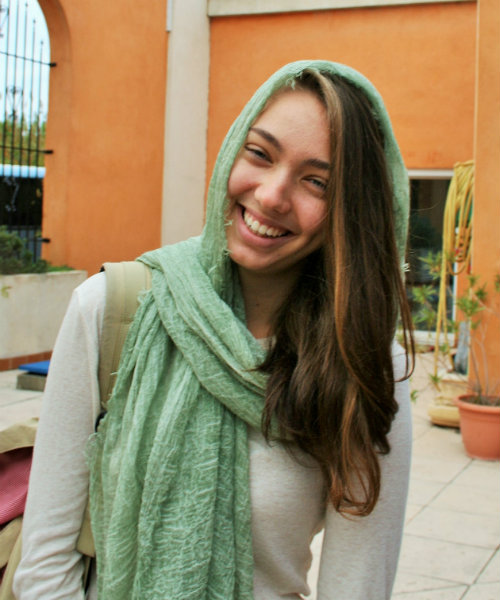 Cochran believes that her experience in Morocco strengthened her writing and interviewing skills.
"Doing the independent study made me a better journalist because I was alone—I had no interpreters, I did my own photography, I paid people to translate. It was real 'boots on the ground' journalism."
Almost immediately after arriving home from Morocco, Cochran boarded a plane to Los Angeles for an internship at Ms. Magazine. The publication is one of the first feminist magazines in the US, created in 1971.
Contrary to other women's magazines available at the time, Ms. Magazine talked about feminism in a political and social way, encouraging women's choices while connecting people.
Cochran was published daily on Ms. Magazine's blog, where she wrote about a variety of topics.
"I hope that when people read my articles and look at my photos, their perspective of the world is changed, even if it's not in the way that I see it. That's what journalism means to me—going out and bringing the world to someone else."
Founded in 1832, Gettysburg College is a highly selective four-year residential college of liberal arts and sciences with a strong academic tradition. Alumni include Rhodes Scholars, a Nobel laureate, and other distinguished scholars. The college enrolls 2,600 undergraduate students and is located on a 200-acre campus adjacent to the Gettysburg National Military Park in Pennsylvania.
Article: Katherine McPartlan '18, communications intern
Contact: Carina Sitkus, senior assistant director of communications, 717.337.6803
Posted: Fri, 2 Mar 2018

Next on your reading list
Gettysburg College rankings underscore academic excellence, career, and alumni connections
---
18 works published by faculty in 2018
---
Top 2018 highlights from Gettysburg College
---
Share this story: