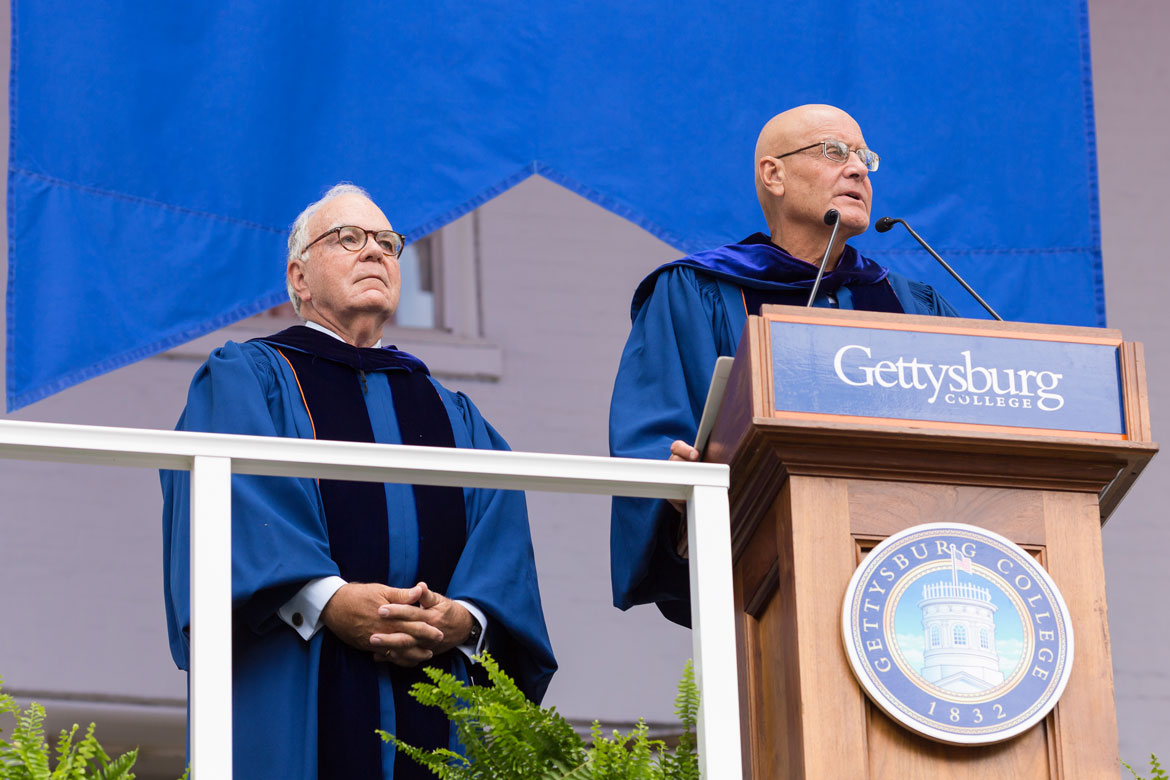 Bob Joseph '69 recognized by Board Chair Jim Chemel '71
Alumni honored for career success, dedicated service
Gettysburg College graduates give fully of themselves to advance the greater good—in their careers, in their communities, and in the world. This spring, 11 Gettysburg alumni were recognized for their exceptional contributions.
At Commencement, the Board of Trustees presented the Lavern H. Brenneman '36 Award for Exemplary Service to Gettysburg College to Trustee Emeritus Bob Joseph '69, who provided visionary leadership for two of the College's comprehensive fundraising campaigns.
Four Gettysburgians were also honored by the Alumni Association with Distinguished Alumni Awards.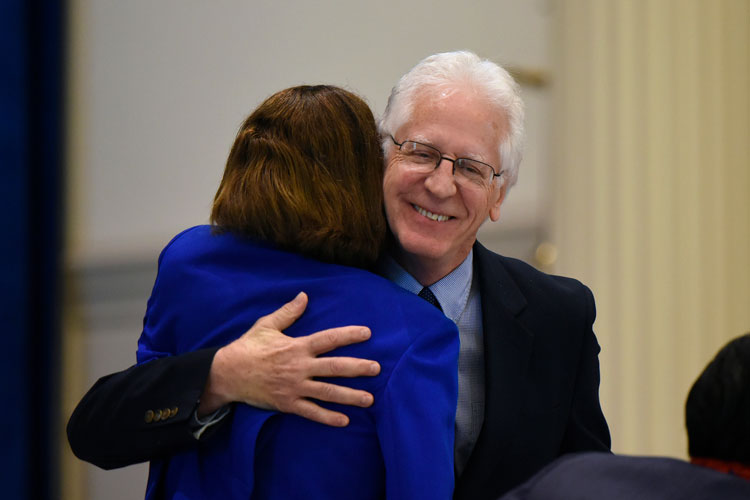 Dick Boak '72 greeted by President Janet Morgan Riggs '77
Dick Boak '72 devoted 40 years of his life to The Martin Guitar Company. In 1976, his passion for woodworking led him to the Martin Guitar Factory, where he began dumpster diving for wood scraps. It wasn't long before Boak caught the eye of the company owner, C.F. Martin III, who offered him a position as a design draftsman.
Boak leveraged his talents to ascend the corporate ladder. He introduced signature guitars to the company, which later became an industry staple. His idea sparked 140 signature guitar collaborations with many of the world's most acclaimed artists, including Johnny Cash, Eric Clapton, Sting, Paul Simon, and Tom Petty.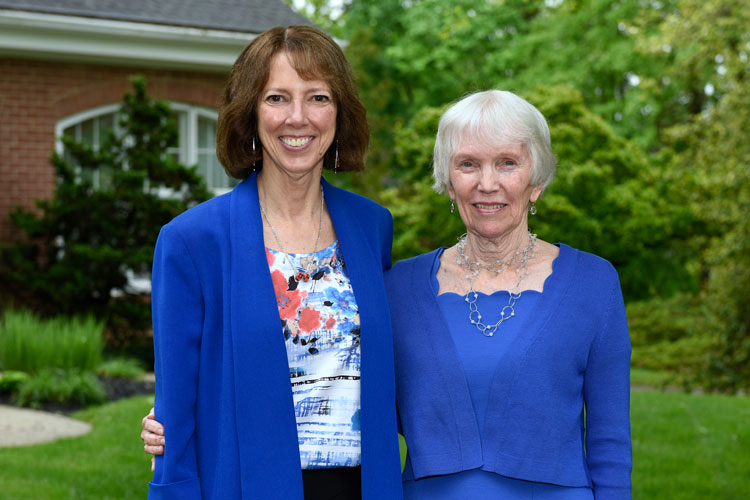 Carol Hirst Clark '61 with President Riggs
Carol Hirst Clark '61 has built a resume that encompasses more than 35 years of management experience, as well as expertise in information technology, computer programming, software development, and education. In addition, she has also co-authored a programming language book.
Following a successful career as CEO and Chair of the Board for MindLeaders, which was acquired in 2007, Clark became a founding member of X Squared Angels Group, which encourages entrepreneurship by investing in women-led companies.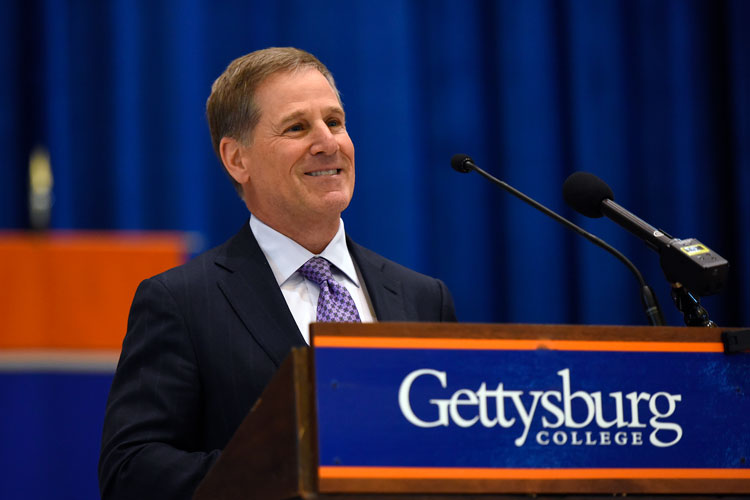 Bob Ortenzio '79
Bob Ortenzio '79 is Executive Chairman and Co-Founder of Select Medical Corporation, a U.S.-based healthcare company focused on medical rehabilitation and post-acute services. Under his leadership, the company has earned revenues of $4 billion and employs more than 41,000 people.
In 2004, he also created The Robert and Angela Ortenzio Family Foundation. Since its inception, the foundation has provided charitable support for Pennsylvania education and healthcare initiatives.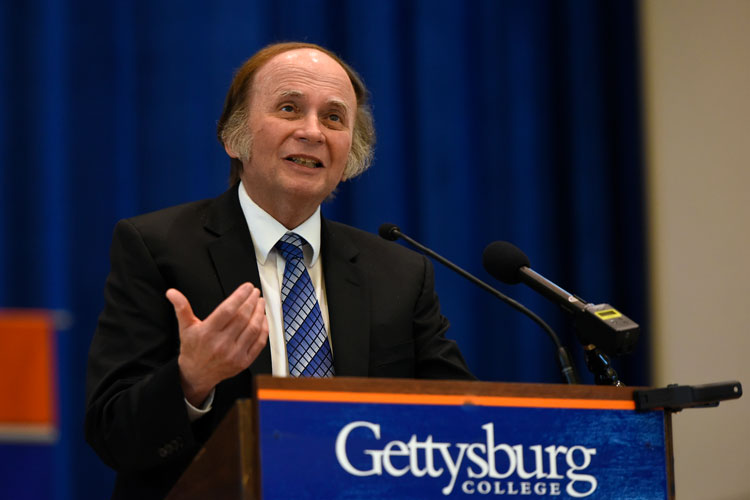 Dr. John Perdew '65
Dr. John Perdew '65 produced more than 300 publications and 213,000 citations as a theoretical condensed matter physicist. His research article on density functional theory for materials and molecules is among the 100 most-cited scholarly articles published in all fields since 1900.
In addition, Perdew serves as an elected member of the National Academy of the Sciences, which advises the U.S. government on science policy and is among the highest honors a scientist or engineer can receive.
Meritorious Service and Young Alumni Awards
Over Reunion Weekend, Justin Hoover '03 and Jonathan Messier '03 earned Young Alumni Achievement Awards for Career Development, while Louisa Polos '08 and Kyle Rhood '08 received Young Alumni Achievement Awards for Service. Meritorious Service Awards were presented to Don Burden '63, P'00 and Roy Fairman '68, P'02.
Do you know someone who is deserving of an Alumni Association Award? Nominate a Gettysburgian today!
Founded in 1832, Gettysburg College is a highly selective four-year residential college of liberal arts and sciences with a strong academic tradition. Alumni include Rhodes Scholars, a Nobel laureate, and other distinguished scholars. The college enrolls 2,600 undergraduate students and is located on a 200-acre campus adjacent to the Gettysburg National Military Park in Pennsylvania.
Contact: Mike Baker, associate director of communications and coordinator of development communications, 717.337.6521
Posted: Tue, 5 Jun 2018

Next on your reading list
Top 2018 highlights from Gettysburg College
---
Ben Tabor '13 on making connections at home and abroad
---
2019 Commencement speaker is author Jerry Spinelli '63
---
Share this story: