CUB renovation continues on schedule
Gettysburg College is committed to advancing its mission and providing students with an exceptional liberal arts experience. This dedication is evidenced in the construction projects taking place across campus, most notably with the renovation to the College Union Building (CUB).
A 26,000 square foot addition and renovation of the CUB began in June 2017. The additional space will provide expanded options for the Bullet Hole, as well as bring the Garthwait Leadership Center and the Center for Career Development into the heart of campus.
There have been many visible signs of the renovation's progress, most notably the placement of beams to support new walls and a roof.
"Construction efforts are right on schedule," said Jim Biesecker, Director of Facilities Planning and Management. "Installation of the steel is here, with plans for the decking and roofing to be completed in this week. The goal is to have a roof installed by the week of February 5th, so we can insulate the space and be working under roof for the remainder of the project."
From that time on, Biesecker said, there won't be many visible changes to the exterior of the project until late April.
Construction should conclude in July, with the office space and dining services resuming normal operations in August.
With the expanded spaces comes new opportunities for the Bullet Hole to offer new menu items and an innovative dining experiences, a move that the staff has long advocated for.
"We've always had the desire to do a little bit more, we just didn't have the space or equipment to be able to do that before," said Mike Bishop, College Union Food Service Manager. "Once we learned we would have the space, we started planning new menu items at a better quality."
One thing he said students can look forward to are expanded food stations, including salads, pizzas and pastas, subs, entrees, and international options. Each station will be able to provide greater variety and include more fresh, made-from-scratch items.
Another example of how Dining Services is rethinking the student dining experience is their new online ordering option, which will allow students to order food online and pick it up at the Bullet Hole when it is ready.
"We have the opportunity to change and grow vastly, so you are going to see a lot of different items from us throughout the year," Bishop said. "That's what excites us about this renovation the most."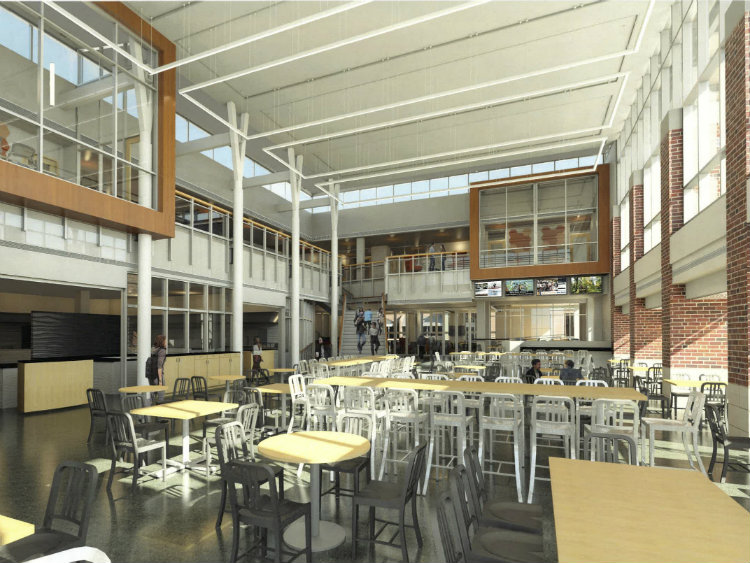 For more updates regarding the CUB renovation, check out the Facilities Service website or view the photo gallery on Flickr.
Founded in 1832, Gettysburg College is a highly selective four-year residential college of liberal arts and sciences with a strong academic tradition. Alumni include Rhodes Scholars, a Nobel laureate, and other distinguished scholars. The college enrolls 2,600 undergraduate students and is located on a 200-acre campus adjacent to the Gettysburg National Military Park in Pennsylvania.
Contact: Kasey Varner '14, assistant director of communications, 717.337.6806
Posted: Fri, 26 Jan 2018

Next on your reading list
---
Share this story: