Ben Tabor '13 forges own path at Gettysburg
A community of faculty, administrators, and alumni support Tabor '13 during college and beyond
Update: As of 2016, Ben Tabor joined Numu Consulting in Saudi Arabia.
"I had certain expectations of what I would get out of my college experience," recalls Ben Tabor '13. His brother, Brad, was a 2008 Gettysburg alum. Both had earned academic Presidential Scholarships. Both were recruited to play Bullets soccer. In many ways, Tabor had a path laid out for him.
But from his first days on campus, that path began to change.
In Professor Dusty Smith's first-year seminar, Voice of the Rebel in America, Tabor learned to question the status quo. While shy at first, Tabor "began to grow into himself" throughout the semester, says Smith—especially during a class project on endowment transparency. "I knew nothing about the College's endowment," Tabor notes, "but I decided to take on the initiative with a few students who lived on my floor. We researched what similar colleges were doing, and encouraged Gettysburg to do the same."
When President Riggs learned of the project, she invited Tabor to her office to discuss it. By the end of the meeting, she had asked him to serve as a student representative on the Board of Trustees' Endowment Committee. In this role, Tabor attended endowment meetings on campus and in New York, and connected with Board members who have become mentors. "Putting a little bit of extra effort into something like the [endowment] project," says Tabor, "really started to set me on a completely different level."
"This is the best thing that ever happened to you"
During his sophomore year, Tabor experienced several setbacks—from injuries on the soccer field to difficulties in his personal life.
"I had this mindset where I thought I had to do everything that my brother did," Tabor recalls, "but as much as tried to be successful like him and get the same experiences out of college, I was setting myself up for failure. It wasn't my path."
Tabor sought Prof. Smith's counsel. They talked about failure, and how to learn from it and move forward. He remembers Smith's advice, "Ben, you don't realize it now, but this is the best thing that ever happened to you."
"I've had such conversations with many students," says Smith, "but Ben really listened, and he ran with it." Over the next two years, Tabor created a new path for himself. He took on two campus jobs and a summer internship at an insurance firm in New York. He joined a different fraternity than his brother. He even participated in the Dance Ensemble's Bollywood performance.
Getting out of the U.S. mindset
During his junior year, he decided to study abroad. Encouraged by Director of Off-Campus Studies Rebecca Bergren, Tabor decided to challenge himself through an intensive language immersion program in Paris. He stayed with a host family in the Parisian suburbs and played pickup soccer with North African immigrants at a local park.
Tabor's experiences in Paris motivated him to learn more about North Africa. He took a five-day solo trip to Morocco, where he stayed with local hosts and dove into Moroccan culture. Although he loved the region, he was frustrated by what he had seen. "Many of the young people that I met were unemployed—even though they were intelligent, hard-working, and often fluent in three languages," he remembers. He decided to return to study youth unemployment.
Back on campus, Tabor met with Assistant Provost for Scholarship Maureen Forrestal and Professor of Political Science Caroline Hartzell about applying for a Fulbright fellowship. Under their guidance, he contacted scholars and professionals to sponsor his project. He finally found a sponsor at the African Development Bank in Tunisia, which supports sustainable economic development and social progress.
It was a perfect match.
As Tabor waited to hear back about his Fulbright fellowship, his sponsor at the African Development Bank invited him to attend a ceremony for their pilot initiative to support young Tunisian entrepreneurs. Gettysburg College's Middle East and Islamic Studies program provided funding for him to attend.
During this brief visit, Tabor befriended several young Tunisians. He met Dorra, who planned to produce apple cider vinegar, and Haithem, who was starting an e-quote business. Dorra asked Tabor about internships in the U.S. cider industry, and he realized he could help. He contacted agricultural experts around Gettysburg—a region that ranks fourth in the nation for apple production—and arranged a two-week visit for her that spring.
"Studying abroad completely changed what I was considering," he notes. "Once you get out of that U.S. mindset and go somewhere different, suddenly things don't seem so far away."
Tabor returned to Gettysburg eager to host Dorra—and even more eager to return to Tunisia. Unfortunately, this excitement was short-lived: he soon learned that his Fulbright proposal had been denied.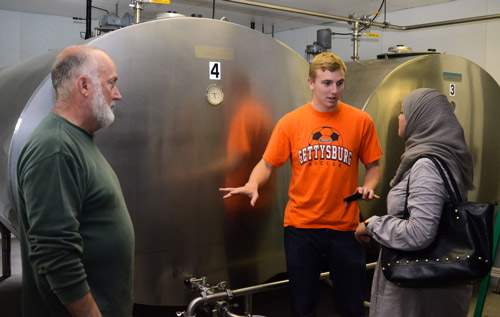 Finding a Different Path
In the spring of Tabor's senior year, Larry Walker '76 visited campus to speak with students about his work in international business. After Walker's presentation, Tabor told him that he was considering declining an insurance underwriter job in New York to return to Tunisia. To his surprise, Walker was supportive of this new path, and asked him to stay in touch.
With graduation looming, Tabor contacted his friends in Tunisia. When Haithem offered to host him, he declined the insurance job in New York and booked his flight—hoping to find work when he arrived.
In the meantime, he kept in touch with Walker, who introduced him to colleagues in his field. It was through these connections that Tabor secured an internship at CCM Consulting in Tunisia, which he started this November. In this role, he researches and matches development experts with projects across the developing world. "It's been fun," he says, "and it never would have happened if people from Gettysburg hadn't repeatedly been extremely helpful."
As he embarks upon this new chapter, Tabor credits the College with allowing him to create lasting relationships.
"I had a support network in my family, but I made my support network at Gettysburg," he said. "I took chances, went out of my comfort zone, and made lasting connections that have opened up doors for opportunities I never could have expected."
Founded in 1832, Gettysburg College is a highly selective four-year residential college of liberal arts and sciences with a strong academic tradition. Alumni include Rhodes Scholars, a Nobel laureate, and other distinguished scholars. The college enrolls 2,600 undergraduate students and is located on a 200-acre campus adjacent to the Gettysburg National Military Park in Pennsylvania.
Posted: Wed, 4 Dec 2013

Next on your reading list
Top 2018 highlights from Gettysburg College
---
Ben Tabor '13 on making connections at home and abroad
---
2019 Commencement speaker is author Jerry Spinelli '63
---
Share this story: